Institutions
Environmental Research and Education Foundation (EREF)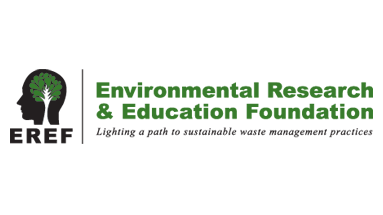 On April 18, 1994 at O'Hare Airport, the first formal board meeting of the foundation was held.  In attendance were: Lonnie Poole (Waste Industries), Patrick Banfield (Banfield and Associates), Gene Wingerter (National Solid Waste Management Association), Bob Duncan (J.C. Duncan Companies), Izzie Abrams (Dual Removal Systems, Ltd.), Whit Hudson (Hudson Management Company) and Lee Brandsma (Groot Industries).
They created what was then called the National Solid Waste Management Association Foundation because they accepted the premise that research by the waste industry was so small that it was judged to be insignificant; and to fill the information gap, these early leaders designed the foundation which would serve as a subsidiary and resource for NSWMA and, later, the Environmental Industry Associations.
This changed in 1998 when the board of directors voted to make the foundation independent of the trade association and renamed it the Environmental Research and Education Foundation.  Its mission: to develop and evaluate new approaches to manage municipal solid waste and to provide scholarships to America's brightest and best.
Mission
To fund and direct scientific research and educational initiatives for waste management practices to benefit industry participants and the communities they serve.
Vision
The leading institution lighting a clear path, through research and education, translating ideas into action for sustainable waste management practices
Strategic Objectives
Unbiased, scientific reports and analysis on waste management practices
Scholarships for high potential graduate students and internships for highly qualified undergraduate students
Targeted research to expand industry knowledge and understanding of the waste stream from generation to final disposition
Improved public understanding of solid waste stream and sustainable solid waste management practices
Increasing industry knowledge through educational programs
Country
America
:

United States

(South East)
Institution type
Non French Institutions
:

Private foundation, charity or company