Institutions
Forum Transregionale Studien Berlin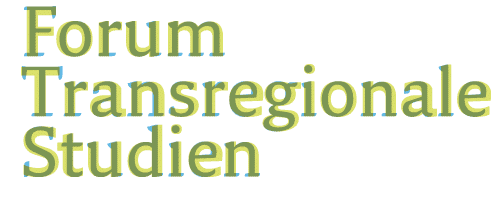 The Berlin-based Forum Transregionale Studien is a research organization that promotes the internationalization of research in the humanities and social sciences.  It is dedicated to a research agenda that systematically links disciplinary approaches and the expertise of area studies by focusing on entanglements and interactions across national, cultural or regional borders.
The Forum provides scope for collaboration among researchers with different regional and disciplinary perspectives and appoints researchers from all over the world as Fellows.
In cooperation with universities and research institutions in and outside of Berlin, it carries out research projects that examine other regions of the world and their relationship to Germany and Europe systematically and with new questions.
The Forum Transregionale Studien was founded in the fall of 2009 in the form of an association with its seat in Berlin. In its work the Forum follows the recommendations of the German Council of Science and Humanities (Wissenschaftsrat) and the Berliner Wissenschaftskommission (Berlin Commission of Science and Humanities) for establishing a forum for transregional studies (both 2006) as well as the internationalization strategy of the Federal Ministry of Education and Research (Bundesministerium für Bildung und Forschung/BMBF) (2008).
The Forum began its work in 2010 by sponsoring research programs in the areas of philology, jurisprudence, and urban sociology. Since 2011 the Forum has headed up a program that researches the entanglements between Europe and the Middle East. In 2013 an art history program was launched.
The Forum is led by a five-member board of directors consisting of Andreas Eckert, professor of African studies (Humboldt-Universität zu Berlin), Marianne Braig, professor of political science (Freie Universität Berlin), Sebastian Conrad, professor of history (Freie Universität Berlin), Barbara Mittler, professor of sinology (Ruprecht-Karls-Universität Heidelberg) and Friederike Pannewick, professor for Arabic studies (Philipps-Universität Marburg).
Institution type
Non French Institutions
:

Other non-university research institute or think tank