Institutions
HSE Institute of Education (IOE)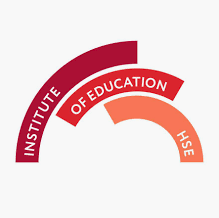 A part of HSE since 2012, IOE is a leading Russian center for training, research and networking in education.
Anchored in a comprehensive approach that sources from across disciplines and adopts state-of-the-art academic standards, IOE delivers scholarship and expertise to promote informed decisions and strategies in the sector and beyond. As its principal division in education, IOE also seeks to underpin HSE's foremost positions on the global academic arena.
Key Facts & Figures
100+ R&D projects annually, including 10+ top-tier global collaborations
One-of-a-kind empirical repositories spanning various dimensions of Russian and global education
100+ accomplished academics and junior staff
15+ visiting faculty and 10+ partner experts of international renown
20+ institutional partners, including world-recognized R&D centers, think-tank hubs, and interstate organizations (UNESCO, OECD, etc.)
10 MA programs and a Doctoral Center with a world-class track in Educational Measurement & Testing
600+ MA students; 40+ PhD candidates.
High-impact R&D to Benefit Multiple Realms
IOE's centers and labs harness conceptual frameworks from multiple domains while drawing on the most relevant, one-of-a-kind empirical datasets that cover various areas of education in Russia and abroad.
This enables us to pursue high-impact R&D that addresses the very nitty-gritty of what tops the modern-day educational agenda – for various stakeholders and social realms to benefit from sustainable positive change in policy and practice.
Today, IOE's annual R&D portfolio numbers 100+ projects, including high-caliber endeavors co-run with QS upper-rank institutions.
We lead or otherwise contribute to a vast number of nation-state and international initiatives spearheaded by OECD (e.g., ESP, PIAAC, TALIS in Russia; Future of Education and Skills: Education 2030, etc.), UNESCO (e.g., Online Resources to Advance Youth Safety and Well-being in Eastern Europe and Central Asia) and WorldSkills (e.g., Evaluating and Enhancing the Efficiency of Vocational Training: From Curriculum to National Systems).
IOE's Major Collaborations in Global R&D
IOE's Graduate School of Education offers a wide range of training programs for researchers, practitioners and administrators that are designed under modern national and global industry standards.
Delivering at Scale
At IOE, we emphasize far-reaching partnerships and global networking as central to our mission of crafting a better world through education. Across the agenda, we go the extra mile ensuring our scholarly outputs help make a difference at scale.
A founding member of the Russian Educational Research Association (member of EERA since 2018), IOE hosts a range of top-tier global conferences on education, publishes two Scopus-indexed academic journals, and holds a variety of international summer schools for early-career scholars.
Our partners are a superb cohort of the world's leading educational institutions, think-tank centers, policy organizations, etc.
IOE is a host venue for a range of top-tier global forums on education
Institution type
Non French Institutions
:

University or university institute