Institutions
Institut Emilie du Châtelet (IEC)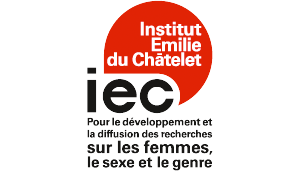 The Emilie du Châtelet Institute (IEC) was founded in 2006, at the initiative of the Paris Regional Council. Since 2012, the IEC, alongside the Alliance for Research on Discrimination (ARDIS), has led the Gender section of the Paris Region's approved "Key Fields of Research" (Domaines d'Intérêt Majeur or "DIM"), section whose official title is "Gender, Inequalities and Discrimination" (GID). Organized as a research federation and housed by the French National Museum of Natural History, the IEC comprises 17 major national and regional institutions of higher education and research.
The IEC's purpose is to promote research and education about women, sex and gender in all fields. The Institute provides doctoral and post-doctoral grants and funding for young researchers, funds academic events, and organizes lectures and meetings that are open to the public, as well as more academic seminars and conferences (see Events).
The IEC aims to encourage dialogue between different fields of research, as well as bringing academia into contact with social, economic, political, activist and institutional organizations and players working towards equality for women and men. The Institute can depend on a broad network to help promote this field of inter-disciplinary research and make it better known, both within the academic community and to the general public.
The IEC is a research federation housed at the Jardin des Plantes of the Muséum national d'Histoire naturelle (MNHN).
It comprises:
Le Muséum national d'Histoire naturelle (The National Museum of Natural History)
Le CNRS (The National Scientific Research Center)
Le Conservatoire national des Arts et Métiers (The National Conservatory of Arts & Trades)
L'Institut national d'Études démographiques (INED/The National Institute of Demographic Studies)
La Fondation nationale des Sciences Politiques (The National Foundation for Political Science)
L'Université Paris Diderot
L'Université Paris Ouest Nanterre La Défense
L'Université Paris-Sud
L'École des Hautes Études en Sciences sociales (Advanced School of Social Sciences) Paris
HEC Paris
L'École normale supérieure Paris
L'Université Paris Est Créteil (UPEC)
L'Université Paris 8
L'Université Paris Sorbonne
L'Université Pierre et Marie Curie (UPMC)
L'Université Paris Nord 13
L'Université Paris 1 Panthéon Sorbonne
Country
Europe
:

France

(Paris Île-de-France)
Institution type
French Institutions
:

Other non-university research institute or think tank