Institutions
U.S. Social Science Research Council (SSRC)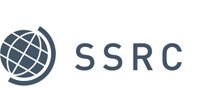 The Social Science Research Council (SSRC) is an independent, nonprofit international organization founded in 1923.
The SSRC nurtures new generations of social scientists, fosters innovative research, and mobilizes necessary knowledge on important public issues.
The SSRC pursues its mission by working with practitioners, policymakers, and academic researchers in the social sciences, related professions, and the humanities and natural sciences. With partners around the world, we build interdisciplinary and international networks, link research to practice and policy, strengthen individual and institutional capacities for learning, and enhance public access to information. We award fellowships and grants, convene workshops and conferences, conduct research and participate in research consortia, sponsor scholarly exchanges, and produce print and online publications.
The SSRC's agenda, in terms of topics and activities, is not static, and we engage new areas of work when social science, in alliance with other fields, has an important contribution to make to understanding and problem solving. In recent years, we have focused on conflict and peacebuilding, the public sphere, knowledge and learning, and strengthening global social science. Current areas also include deepening the understanding of religion and analyzing the United States from a human development perspective. Major new initiatives are under development on the anxieties of democracy, cities, digital culture, and exploring "scholarly borderlands," which will bring social scientists in closer collaboration with both natural scientists and humanists. We also offer fellowships for researchers doing promising work in the social sciences and related disciplines. Our largest fellowship program, the International Dissertation Research Fellowship (IDRF), funds graduate students for research across the globe.
The SSRC's interdisciplinary collaborations have occasionally given birth to new disciplines. In the 1960s, for example, we brought together specialists in linguistics, sociology, and anthropology to study the interactions of languages and societies, which led to the emergence of sociolinguistics. More recently, the SSRC has played a critical role in establishing the field of migration studies.
At its founding, the SSRC was mostly American in its organization and outlook. But our work eventually expanded to include international concerns. From the 1960s onward, we became known for our work encouraging the study of other regions of the world and for our commitment to fostering the development of the social sciences in those regions by offering fellowships and other programs for foreign researchers. Today we are a leading force in international social science, and around twenty percent of our funding comes from overseas. Work requiring "context-specific" or "place-based" knowledge typically represents around sixty percent of program activity in any given year.
Additionally, the Council has in-house expertise on Africa, Cuba, China, Eurasia, Haiti, Japan, Latin America, the Middle East, North Korea, Russia, and Vietnam. Likewise, our Board of Directors includes experts on Africa (Mamadou Diouf, Thandika Mkandawire, and Michael J. Watts); the former Soviet Union countries (Michael Kennedy); Mexico (Claudio Lomnitz); and Latin America and Asia (Barbara Stallings).
Country
America
:

United States

(Mid-Atlantic)
Institution type
Non French Institutions
:

Academy or Learned Society