Institutions
Brady-Johnson Program in Grand Strategy
Yale University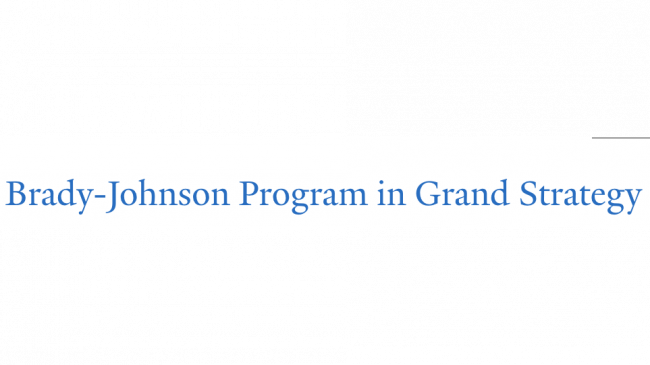 The Brady-Johnson Program in Grand Strategy seeks to promote effective leadership in a complex and globalized world. It encourages understanding of historical and contemporary global challenges and develops students' capacity for strategic thinking and effective leadership in statecraft broadly conceived. The Yale program views the principles and methods of grand strategy as relevant to a broad array of issues including security, economic development, political stability, health, climate sustainability, human rights, and technological advancement. The program also develops common sense problem solving capacity through the integration of academic and practical learning.
The program defines grand strategy as the comprehensive approach to achieving large ends with limited means. Central to the program is the Studies in Grand Strategy course, which begins with a broad span of history from 300 B.C.E. to present day, with close examination of primary texts and critical historical turning points. In addition, the program develops students' practical skills through exposure to practitioners such as diplomats, politicians, businesspeople, military personnel, journalists and media experts, scientists, and social reformers.
Faculty in the course include scholars from diverse disciplines including history, political science, economics, public health and medicine, environmental science, and humanities. Study involves classroom seminars, group presentations of strategy briefs to high-level officials, a crisis simulation, and summer internships. The program integrates academic study at the undergraduate, masters, pre-doctoral, and post-doctoral level.
Country
America
:

United States

(New England)
Institution type
Non French Institutions
:

University or university institute