Institutions
Weatherhead Center for International Affairs, Harvard University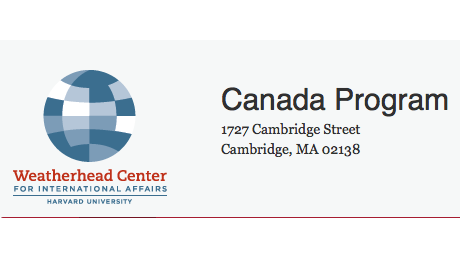 The Canada Program, made possible by the William Lyon Mackenzie King endowment, presents rich intellectual opportunities for Canadian studies at Harvard: graduate and undergraduate courses offered by distinguished visiting Canadian scholars across the social sciences and professional schools, dissertation research grants for Harvard graduate students, thesis research and travel funding for Harvard undergraduates, a vibrant seminar series of esteemed Canadian guest speakers, and an annual faculty-led conference.
Since 2008, the Canada Program has granted more than $700,000 in dissertation research funding to more than forty graduate students—some of whom are engaged in research concerning government, law, sociology, history, music, education, public health, and urban design—and nine undergraduate students, all of whom are known as Canada Research Fellows.
The Canada Seminar, chaired by the William Lyon Mackenzie King Visiting Professor, offers presentations by public figures, scholars, artists, and experts in various fields, and provides a forum for the lively exchange of ideas on a wide range of issues. Guest speakers of the seminar have included former Prime Ministers Pierre Trudeau and Jean Chrétien, Hall of Fame hockey player and former Toronto Maple Leaf President Ken Dryden, Supreme Court Justice Rosalie Silberman Abella, political philosopher Charles Taylor, and film director and producer Norman Jewison.
Country
America
:

United States

(New England)
Institution type
Non French Institutions
:

University or university institute