Institutions
German Federal Office for Agriculture and Food (BLE)
Bundesanstalt für Landwirtschaft und Ernährung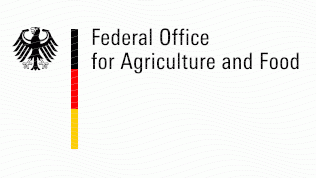 As a federal institution for public law, directly accountable to the Federal Government, the Federal Office for Agriculture and Food (Bundesanstalt für Landwirtschaft und Ernährung, BLE) conducts its operations within the scope of business of the Federal Ministry of Food and Agriculture (BMEL).
The BLE central office in Bonn-Mehlem.
The BLE was established with effect from 1 January 1995 by merging the former Federal Agency for Agricultural Market Organization (BALM) and the former Federal Office of Food and Forestry (BEF), and is subject to legal and technical supervision by the Federal Ministry of Food and Agriculture.
BLE Administrative Organs
The President, as the head of the BLE, manages BLE operations and represents the BLE externally.
The Administrative Council advises the Federal Office in connection with its specific tasks. It brings forward proposals to the Federal Ministry where matters relating to these specific BLE tasks are concerned. In all issues of principle, especially the nomination of the president and the vice president, or in case of amendments to the statutes, the Administrative Council shall be consulted by the BMEL. In addition, the Council decides on the establishment of advisory boards whose activities it coordinates. The advisory boards directly advise the BLE's administrative organs in matters relating to each of their specific fields. The Administrative Council consists of representatives from the industry, state and federal administrations and consumer groups.
Institution type
Non French Institutions
:

Public research coordinating or funding body