Institutions
Lyndon Baines Johnson (LBJ) Presidential Library
University of Texas at Austin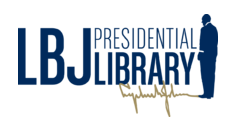 The Lyndon Baines Johnson Library and Museum, also known as the LBJ Presidential Library, is the presidential library and museum of Lyndon Baines Johnson, the 36th President of the United States (1963–1969). It is located on the grounds of the University of Texas at Austin, and is one of 13 Presidential Libraries administered by the National Archives and Records Administration. The LBJ Library houses 45 million pages of historical documents, including the papers of President Johnson and those of his close associates and others.
The Library was dedicated on May 22, 1971, with Johnson and then-President Richard Nixon in attendance.
President Johnson is buried at his ranch, near Johnson City, Texas, at the Lyndon B. Johnson National Historical Park. After her death in July 2007, the body of Lady Bird Johnson lay in repose in the Library and Museum, just as her husband's had after his death, 34 years earlier in January 1973.
In 2012, the LBJ Library underwent a multimillion-dollar redesign, during which most of the exhibits were closed. On December 22, the Library reopened to the public. In 2013, the Library began charging admission for the first time since its dedication in 1971.
The Library, adjacent to the LBJ School of Public Affairs, occupies a 14-acre (57,000 m²) campus. Although the Library is on the grounds of UT Austin, it is federally run and independent from the University. The top floor of the Library has a 7/8ths scale replica of the Oval Office decorated as it was during Johnson's presidency.
The LBJ Library provides year-round public viewing of its permanent historical, cultural, and temporary exhibits to approximately 125,000 visitors each year. It is open from 9 a.m. until 5 p.m. seven days a week throughout the year. The Library is closed on Thanksgiving, Christmas, and New Year's Day.
Country
America
:

United States

(South West)
Institution type
Non French Institutions
:

Museum or library