Institutions
Museum of the City of New York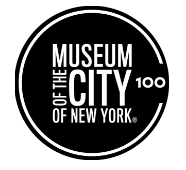 The Museum of the City of New York (MCNY) is a history and art museum in New York City, New York. It was founded by Henry Collins Brown, in 1923 to preserve and present the history of New York City, and its people. It is located at 1220-1227 Fifth Avenue from East 103rd to 104th Streets, across from Central Park in the Upper East Side neighborhood of Manhattan, at the northern end of the Museum Mile section of Fifth Avenue.
The red brick with marble trim museum was built in 1929-30 and was designed by Joseph H. Freedlander in the neo-Georgian style, with statues of Alexander Hamilton and DeWitt Clinton by sculptor Adolph Alexander Weinman facing Central Park from niches in the facade.
The museum is a private non-profit organization which receives government support as a member of New York City's Cultural Institutions Group, commonly known as "CIG"s. Its other sources of income are endowments, admission fees, and contributions.
Collection
The museum's collection of over 1.5 million items – which is particularly strong in objects dating from the 19th and early 20th centuries – include paintings, drawings, prints, including over 3000 by Currier and Ives, and photographs featuring New York City and its residents, as well as costumes, decorative objects and furniture, antique toys– the museum was the first in the United States to establish a curatorial department for toys – ship models, rare books and manuscripts, marine and military collections, police and fire collections, and a theater collection which documents the golden age of Broadway theater. There are also dioramas about the city's history as well as its physical environment.
Among the rare items in the museum's collection is a chair that once belonged to Sarah Rapelje, daughter of Joris Jansen Rapelje of Nieuw Amsterdam, and said to be the first child born in New York State of European parentage. The chair was donated by her Brinckerhoff descendants.
The museum is known for its comprehensive collection of photographic images, which includes works by noted photographers Percy Byron, Jacob Riis and Berenice Abbott, as well as many Depression-era Federal Art Project photographs. The collection also includes still photography by film director Stanley Kubrick.
MCNY is also home to several recreations of furnished rooms from the house of John D. Rockefeller, donated by the Rockefeller family. Notable as well is a model of New Amsterdam based on the Castello Plan of 1660.
Country
America
:

United States

(Mid-Atlantic)
Institution type
Non French Institutions
:

Museum or library