Institutions
Orient-Institut Beirut (OIB)
Max Weber Foundation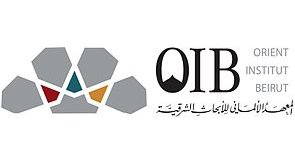 The Orient-Institut Beirut (OIB) is a non-profit German academic research institute.  It  conducts and supports research on the history and present condition of the Arab world in the realm of the humanities and social sciences. The emphasis given to the systematic study of primary sources, regional agents and affairs provides a common conceptual framework.
The OIB maintains a large research library, publishes two book series as well as an online series, and organizes academic events such as research seminars, lecture series, colloquia, international conferences, and workshops. For the design, funding, and realization of its projects, the OIB engages in local and international academic partnerships. In addition, the OIB strives to raise external funds for its projects from German and European science foundations.  It also supports academic activities of local partners.
The OIB sponsors an international doctoral and a small postdoctoral fellowship program. Facilitating links between research interests in the Arab world and academic institutions in Germany and Europe in a multi- and interdisciplinary perspective is a core aim of all its activities.
The OIB  is part of the Max Weber Foundation – German Humanities Institutes Abroad and mainly funded by the Federal Ministry of Education and Research.
Institution type
Non French Institutions
:

Other non-university research institute or think tank