Queen's University at Kingston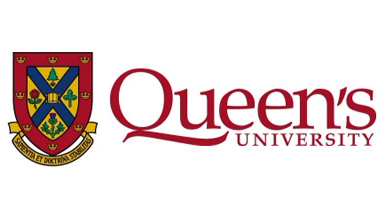 Queen's University at Kingston (commonly shortened to Queen's University or Queen's) is a public research university located in Kingston, Ontario, Canada. Founded on 16 October 1841 via a royal charter issued by Queen Victoria, the university predates the founding of Canada by 26 years. Queen's holds more than 1,400 hectares (3,500 acres) of land throughout Ontario and owns Herstmonceux Castle in East Sussex, England. Queen's is organized into ten undergraduate, graduate and professional faculties and schools.
The Church of Scotland established Queen's College in 1841 with a royal charter from Queen Victoria. The first classes, intended to prepare students for the ministry, were held 7 March 1842 with 13 students and two professors. Queen's was the first university west of the maritime provinces to admit women, and to form a student government. In 1883, a women's college for medical education affiliated with Queen's University was established. In 1888, Queen's University began offering extension courses, becoming the first Canadian university to do so. In 1912, Queen's secularized and changed to its present legal name.
Research
In Research Infosource's 2011 ranking of Canada's 50 top research universities, Queen's ranked 11th, with sponsored research income of $197.016 million. With an average of $237,900 per faculty member, Queen's ranked Canada's sixth most research-intensive university. The federal government is the largest funding source, providing 49.8 percent of Queen's research budget, primarily through grants.
The university operates six research centres and institutes, the Centre for Neuroscience Studies, GeoEngeering Centre, High Performance Computing Virtual Laboratory, Human Mobility Research Centre, Sudbury Neutrino Observatory Institute, and the Southern African Research Centre.
Queen's University has a joint venture with McGill University, operating an academic publishing house known as the McGill-Queen's University Press. It publishes original peer-reviewed and books in all areas of the social sciences and humanities. While the press's emphasis is on providing an outlet for Canadian authors and scholarship, the press also publishes authors throughout the world. The press has over 2,800 books in print. The publishing house was known as the McGill University Press in 1963 prior to it amalgamating with Queen's in 1969.
Calls
Country
Institution type
Non French Institutions
:

University or university institute