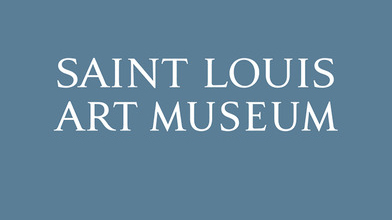 The Saint Louis Art Museum is one of the principal U.S. art museums, with paintings, sculptures, cultural objects, and ancient masterpieces from all corners of the world. Its three-story building stands in Forest Park in St. Louis, Missouri, where it is visited by up to a half million people every year. Admission is free through a subsidy from the cultural tax district for St. Louis City and County.
In addition to the featured exhibitions, the museum offers rotating exhibitions and installations. These include the Currents series, which features contemporary artists, as well as regular exhibitions of new media art and works on paper.
Collection
The collection of the Saint Louis Art Museum contains more than 30,000 art works dating from antiquity to the present. The collection is divided into eleven areas:
African
American
Ancient and Islamic
Asian
Contemporary
Decorative Arts and Design
European
Modern
Oceanic
Mesoamerican and American Indian
Prints, Drawings, and Photographs
The modern art collection includes works by the European masters Matisse, Gauguin, Monet, Picasso, Giambattista Pittoni and Van Gogh. The museum's particularly strong collection of 20th-century German paintings includes the world's largest Max Beckmann collection, which includes Christ and the Woman Taken in Adultery. In recent years, the museum has been actively acquiring post-war German art to complement its Beckmanns, such as works by Joseph Beuys, Gerhard Richter, Martin Kippenberger and others. The collection also includes Chuck Close's Keith (1970).
The collections of Oceanic and Mesoamerican works, as well as handwoven Turkish rugs, are among the finest in the world. The museum holds the Egyptian mummy Amen-Nestawy-Nakht, and two mummies on loan from Washington University. Its collection of American artists includes the largest U.S.-museum collection of paintings by George Caleb Bingham.
The collection contains at least six pieces that Nazis confiscated from their own museums as degenerate. These include Max Beckmann's "Christ and the Woman Taken in Adultery" which came to the museum through a New York art dealer, Curt Valentin, who specialized in Nazi confiscations, and Matisse's "Bathers with a Turtle" which Joseph Pulitzer purchased at the Galerie Fischer auction held in the Grand Hôtel National, Lucerne, Switzerland, June 30, 1939.
In the context of the museum's 2013 expansion, British artist Andy Goldsworthy created Stone Sea, a site-specific work for a narrow space between the old and new buildings. Twenty-five tightly packed, ten-foot-high arches made of native limestone rise in a sunken courtyard. The artist was inspired by the fact that the sedimentary rock was formed when the region was a shallow sea in Prehistoric times.
Calls
Country
America
:

United States

(Mid-West / Plains)
Institution type
Non French Institutions
:

Museum or library