Institutions
University of Cambridge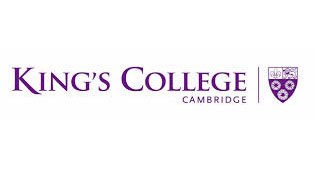 King's College is a constituent college of the University of Cambridge in Cambridge, England. Formally The King's College of Our Lady and Saint Nicholas in Cambridge, the college lies beside the River Cam and faces out onto King's Parade in the centre of the city.
The unofficial Tompkins Table comparing academic performance ranked King's thirteenth out of a total of twenty-nine rated colleges at the University of Cambridge in 2012. In terms of first-class degrees, King's ranked 7th in the university with 27.5% of final year students achieving a first.
King's offers all undergraduate courses available at the University, except for education, Land Economy and veterinary medicine, although Directors of Studies for Anglo-Saxon Norse & Celtic and Management Studies visit from other colleges. With more than 100 fellows and some 420 undergraduate students, King's has one of the highest ratios of fellows to students of all the Cambridge Colleges.
Since its foundation, the college has housed a library, providing books for all students, covering all the subjects offered by King's. Around 130,000 books are held: some available for teaching and for reference, others being rare books and manuscripts. The library operates a user-oriented purchasing policy: students and Directors of Studies recommend new purchases in their subject. There is both Wi-Fi and Ethernet internet access throughout the library as well as a library computer room. Special collections include a separate Music Library, the Keynes Library, a Global Warming collection, and an Audio Visual Library.
Institution type
Non French Institutions
:

University or university institute