Institutions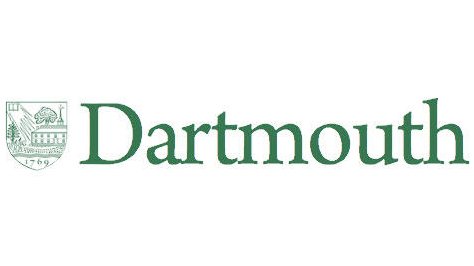 Dartmouth College is a private Ivy League research university in Hanover, New Hampshire, United States. Dartmouth consists of a liberal arts college, the Geisel School of Medicine, the Thayer School of Engineering, and the Tuck School of Business, as well as 19 graduate programs in the arts and sciences. Incorporated as the "Trustees of Dartmouth College," it is one of the nine Colonial Colleges founded before the American Revolution. With an undergraduate enrollment of 4,276 and a total student enrollment of 6,342 (as of 2013), Dartmouth is the smallest university in the Ivy League. It was the last Ivy League school to admit women, in 1972.
Dartmouth College was established in 1769 by Eleazar Wheelock, a Congregational minister. After a long period of financial and political struggles, Dartmouth emerged in the early 20th century from relative obscurity.
Dartmouth functions on a quarter system, operating year-round on four ten-week academic terms. The Dartmouth Plan (or simply "D-Plan") is an academic scheduling system that permits the customization of each student's academic year. All undergraduates are required to be in residence for the fall, winter, and spring terms of their freshman and senior years, as well as the summer term of their sophomore year. However, students may petition to alter this plan so that they may be off during their freshman, senior, or sophomore summer terms. During all terms, students are permitted to choose between studying on-campus, studying at an off-campus program, or taking a term off for vacation, outside internships, or research projects. The typical course load is three classes per term, and students will generally enroll in classes for 12 total terms over the course of their academic career.
The D-Plan was instituted in the early 1970s at the same time that Dartmouth began accepting female undergraduates. It was initially devised as a plan to increase the enrollment without enlarging campus accommodations, and has been described as "a way to put 4,000 students into 3,000 beds." Although new dormitories have been built since, the number of students has also increased and the D-Plan remains in effect. It was modified in the 1980s in an attempt to reduce the problems of lack of social and academic continuity.
Country
America
:

United States

(New England)
Institution type
Non French Institutions
:

University or university institute