Institutions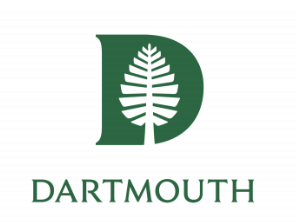 A vibrant, inclusive learning environment where students and faculty respond with research and innovation to the most pressing challenges of our time. 
Our Mission
Dartmouth educates the most promising students and prepares them for a lifetime of learning and of responsible leadership through a faculty dedicated to teaching and the creation of knowledge.
1769 Founded - Charter establishing Dartmouth was signed by John Wentworth, the Royal Governor of New Hampshire.
40+ Academic departments and programs - As an undergraduate you can explore the arts and sciences before declaring or designing your major.
7:1 Undergraduate student-to-faculty ratio - The majority of classes have 20 or fewer students.
Our Core Values
Dartmouth expects academic excellence and encourages independence of thought within a culture of collaboration.
Dartmouth faculty are passionate about teaching our students and are at the forefront of their scholarly or creative work.
Dartmouth embraces diversity with the knowledge that it significantly enhances the quality of a Dartmouth education.
Dartmouth recruits and admits outstanding students from all backgrounds, regardless of their financial means.
Dartmouth fosters lasting bonds among faculty, staff, and students, which encourage a culture of integrity, self-reliance, and collegiality and instill a sense of responsibility for each other and for the broader world.
Dartmouth supports the vigorous and open debate of ideas within a community marked by mutual respect.
Dartmouth bridges arts and sciences. Teaching and scholarship. Learning and leading. Our region and the world.
These connections thrive at the heart of our academic enterprise.
Country
America
:

United States

(New England)
Institution type
Non French Institutions
:

University or university institute